SIGN ROUTING COEXTRUDED COLOR POLYMER
CUTS AVAILABLE

STANDARD CUT The router cuts straight into the material removing only the letters or out lines
EMERALD CUT The router cuts the letters or outlines and lightly tappers the walls leading into each letter.
BACKGROUND The router removes the back ground material leaving a 3d effect for the letters, images, logo and boarder.
COEXTRUDED COLOR POLYMER The material is extruded all at the same time as one material so there is no possible delaminating. It is designed to take the weather and ultraviolet rays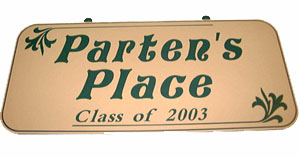 Surfix Signs and Lettering Quote
To get a quick quote for signage and lettering send us an email with your requirements, size, material and colors.