10" Round Meatball Maker
Only $ 24.60 with free shipping via USPS in the 48 Contiguous States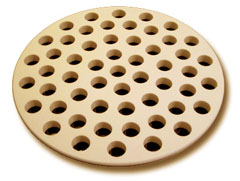 10" Natural White Polyethylene
9" Square Meatball Maker
Only $ 21.60 with free shipping via USPS in the 48 Contiguous States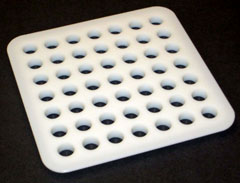 9" Square Natural White Polyethylene
The 9" square grid is perfect for a 8" x 8" baking dish. Makes 3/4" meatballs in less than 4 minutes.
Now you can make tiny or mini-meat balls for soup in a fraction of the time. Soups like minestrone, chicken noodle and Italian Wedding Soup require over 100 miniature meat balls, way too much time and effort to roll by hand.
With the Surfix meat ball maker you can prepare from start to finish 55 three-quarter inch meat balls in less than 4 minutes. Also known as a mini-meatballer, mini meat baller tool, italian wedding soup meatball maker or microwave meatball maker. It works great for making soup meatballs, tiny meatballs and meatball casserole. The 10 inch meatball grid fits most all microwaves and is a snap to clean.
The Surfix meat ball maker is half inch thick white natural polyethylene; tested and certified by the NSF and is FDA approved. Dishwasher safe but remove before the drying cycle to avoid damage.
Just prepare your secret ingredients and spread into each hole.
Place the meat ball pattern on a 10 inch microwavable deep dish and microwave for 2 ½ minutes.
The meat balls simply fall into the dish ready to add to the soup.
Spread your meatball mixture over the mini-meatball maker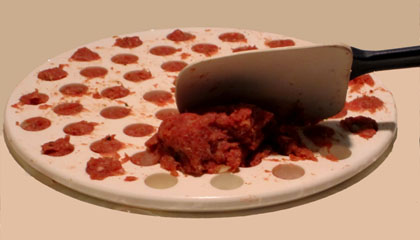 Fill all openings and smooth flat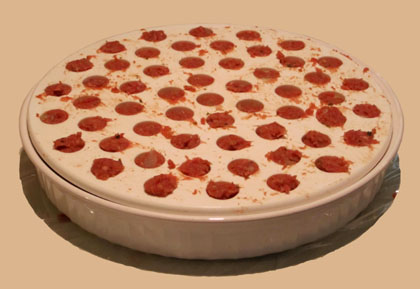 Cook in microwave oven,
mini meatballs fall into a catch tray (not included)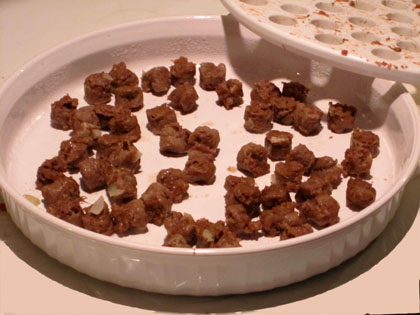 Introducing the SurfixBoard
Custom Size Cutting Boards at Stock Prices